How to timelapse with a GoPro Hero 4
TurnsPro is perfect to use with a GoPro. All you need to get started is a GoPro Tripod Mount (available from TurnsPro.com) to attach your GoPro to the TurnsPro.
There are two main ways in which you can record a timelapse using a GoPro.  You can either record in video mode, or with the new models of GoPro there is an in built timelapse mode.  Below we outline how to timelapse with GoPro Hero4.
Recording a GoPro timelapse using video mode
Using a tripod adapter, attach your GoPro to TurnsPro.  Set the duration of your rotation on TurnsPro (see how to set up TurnsPro).  Start recording your video by pressing the button on top of the TurnsPro.  When you are done, press the button on top of the GoPro again.
The advantage of using video mode, is that you can play the footage in real time, or sped up into a timelapse video. The disadvantage is that it will take up more memory than using the built in timelapse mode.
How to use your GoPro with TurnsPro
Recording a GoPro timelapse using in built timelapse mode
Traditionally, timelapse was done by taking a series of photos and stitching the footage together.  There is an in built function in a GoPro Hero 4 which you can set the interval between photos and once complete the GoPro will automatically stitch the photos into a video.
Here are some of the camera icons you will need to know about: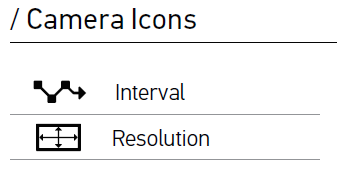 Available interval options are: 0.5 (default), 1, 2, 5, 10, 30, and 60 seconds.
Available resolutions are: 2.7K – 4:3 aspect ratio, and 4K (default) – 16:9 aspect ratio.
A. Configure your camera's Time Lapse Video options: 
With the camera on, in VIDEO mode, press the SETTINGS/TAG button on the side of the camera.
Press the top SHUTTER button once, to cycle from VIDEO to T LAPSE VID.
Press the front MODE button once to highlight the INTERVAL SETTING. By pressing the top SHUTTER button you can alter the interval at which the camera will capture a frame (see above for available interval options).
Once an interval is chosen, press the front MODE button to highlight the RESOLUTION SETTING. By pressing the top SHUTTER button you can alter the resolution a